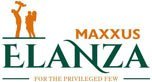 Maxxus Elanza
Low Rise 3BHK Luxury Flats, Both Side Open, Stilt+4
Airport Road PR-7, Zirakpur
Prices Starting Rs.64.90 Lacs Onwards.
Maxxus Elanza Zirakpur is a Premium Luxury Residential Township offering 3BHK Luxury Floors, Located on Chandigarh Ambala Highway and Airport Road (PR-7) Adjoining Shemrock School, Zirakpur. The 6.5 Acre Township in Zirakpur boasts of Well Designed Residences with World Class amenities, Clubhouse, Play areas for Kids and Lush Green landscaped Greens.
Maxxus Group has a legacy of trust and excellence to live up to; a fact that has driven us to achieve a lot in a relatively short period of time. Some of our Ongoing and Delivered Projects are: Bliss Ora, Maxxon Celebration, Maxxus Plaza and Maxxus Business Square to name a few
Maxxus Elanza at a Glance
Amenities | Maxxus Elanza